Your Local Insurance Agents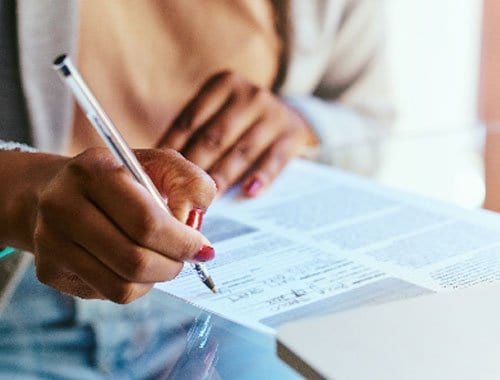 All life insurance policies have two things in common
Whole, variable universal, term, and more. Life insurance can be confusing and keeping the different types straight can be tough. In general, life insurance guarantees a death benefit to a designated beneficiary after a policyholder dies. Like most policies, life insurance requires a recurring payment known as a "premium" to keep the policy active. Ready to learn more about life insurance? Let's dive in.
Not all life insurance coverage is permanent
Permanent life insurance is the most common form of life insurance and is designed to keep you covered for your entire life. For some, this may become an important element in your retirement planning.
Whole life policies accumulate cash value
How does that happen? An insurer directs some of your premium payments into a reserve account and puts those dollars into investments. The return on the investments influences the growth of the cash value, which builds up according to a formula the insurer sets.
A whole life policy's cash value grows with taxes deferred. After a while, you gain the ability to borrow against that cash value. You can even cancel the policy and receive a surrender value. Premiums on whole life policies, though, are usually higher than premiums on term life policies, and they may rise with time. Also, beneficiaries only receive a death benefit (not the policy's cash value) when a whole life policyholder dies.
Universal life insurance is whole life insurance with a key difference
Universal life policies also build cash value with taxes deferred, but there is the chance to eventually pay the monthly premiums out of the policy's investment portion.
Month by month, some of your premium on a universal life policy gets credited to the cash reserve of the policy. Sooner or later, you may elect to pay premiums out of the cash reserve – so, the policy essentially begins to "pay for itself." If all goes well, a universal life policy may have a lower net cost than a whole life policy. If the investments chosen by the insurer severely underperform, that can mean a dilemma: the cash reserve of your policy may dwindle and be insufficient to keep paying the premiums. That could mean cancellation of the policy.
What about variable and variable universal life policies?
Variable life policies are basically whole life or universal life policies with a riskier investment component. In VL and VUL policies, you may direct percentages of the cash reserve into investment sub-accounts managed by the insurer. Assets allocated to the sub-accounts may be put into equity investments of your choice as well as fixed-income investments. If you choose equity investments, you (and the insurer) assume greater risk in exchange for the possibility of greater reward. The performance of the sub-accounts cannot be guaranteed. As an effect of this risk exposure, a VUL policy usually has a higher annual cost than a comparable UL policy.
Term life insurance is life insurance that you "rent" rather than own
It provides coverage for a set period (usually 10-30 years). Should you die within that period, your beneficiary will get a death benefit. Typically, the premium payments and death benefit on a term policy are fixed from the start, and the premiums are much lower than those of permanent life policies. When the term of coverage ends, you may be offered the option to renew the coverage for another term or to convert the policy to a form of permanent life insurance.
Term life is cheap, but the tradeoff comes when the term is up
Just as you can't build home equity by renting, you cannot build cash value by "renting" life insurance. When the term of coverage is over, you usually walk away with nothing for the premiums you've paid.
Which coverage is right for you?
Many factors may come into play when deciding which type of life insurance will suit your needs. The best thing to do is to speak with a qualified insurance professional who can help you examine these factors, so you can determine which type of coverage may be appropriate.
The Balance, 2018
Fool, 2017
Investopedia, 2018
Insure, 2017
The Balance, 2018
Insurance and Estates, 2017
Consumer Reports, 2018
"Call Missy for all your insurance needs. Talk about a awesome person and very knowledgeable she saved us over $700."

—Beverly Guthrie
"I cannot speak highly enough of the Gerety Insurance Agency. Chris and their team provided EXCELLENT customer service, they were professional, efficient and communicated extremely well. I moved all my insurance needs, home, auto and liability policies to them.
I highly recommend!"
—Jim Grant
"A Wonderful customer support at all times. Always ready to help at any time. Courteous, professional, knowledgeable. Immediate and supportive response when claims made."
—Meg Bates Jones
"The staff was very helpful, professional and supportive in seeing us through tree and structural damage resulting from a wind storm. Great staff."
—Ursula Cain-Jordan
"I was switching over from another insurance provider and they made it the easiest thing possible for me. Anything I had questions on they knew and if I had to send them information about anything I can shoot my agent with a quick picture of the information over a text! Friendly, and honest people."
—Donny Stimax
"Jaime Zang has been a wonderful help to our entire family. We have been through many changes as our family grows. She is always quick to respond, knowledgeable, and polite. I would recommend this company to everyone I know!"
—Mary Chaney
"As a customer of Gerety Insurance for many, many years, we could not be more pleased with the outstanding customer service and knowledge of the industry. Always available in a timely fashion to change/adjust policies as needed in our changing world. Highly recommend."
—Grace M. Manger